Travellers seek healthy experiences.
Never before have travellers sought healthier travel experiences. In-flight and on arrival, healthy-habit options are being requested by the discerning traveller. The travel industry is seeing a strong refocus on health and wellbeing, particularly in the last two years. As we tentatively resume travel, we are seeing the travel industry reflect this trend in its services as travellers seek healthy experiences.
When it comes to business travel, there are additional stressors. These include preparing for meetings, being on time, late night/early morning flights, grab-and-go food options, and insufficient sleep. As a direct result, an increasing number are looking for ways to counteract the stress associated with business travel. To address all these needs, we see health-based options appear on the traveller's horizon.
Airport Lounges
Offering a "safe space" in airports, Airport Lounges provide private time from public crowds, a reprieve during long layovers, and a place to recharge.
Healthier options include exercise equipment, meditation hubs, healthier nutrition. These add-ons look set to continue with some airlines and hotels partnering with brands synonymous with health and fitness such as workout giant Peleton. We are seeing a real response in the industry as travellers seek healthy travel experiences.
Within the Retreat Area of Virgin Atlantic lounges, you can sit back, rejuvenate, and refresh with dedicated areas for meditation and relaxation. Whilst in London's Heathrow Airport lounges, British Airways encourages travellers to avail of their napping pods.
Echoing the trend of at-home workouts becoming the norm, staying fit while out on the road is on the rise. Virgin Atlantic recently cut a deal with Peloton for their airport lounges. Book with the VA QR code, select time, check-in upon arrival, and hop on the Peloton bike – all with an airport runway view. Delta Airlines similarly is offering Peloton bikes across their US lounges.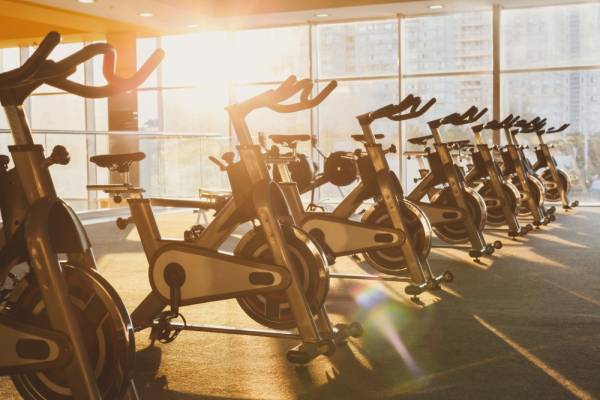 Hotels
A good-night-sleep is the cornerstone of wellness and facilities to ensure consistent exercise regimes is topping the list of Business Travellers' selection of business travel hotels. 31% of business travellers now focus on selecting hotels with spas and wellness centres.
Tips from the experts include:
Research ahead of time what is available at the airport, near your hotel, or business travel destination
Aim for rest and recovery while at your business hotel.
Get good quality sleep, keep a familiar routine where possible
Avoid caffeinated drinks later at night
Shut down electronics a few hours before bed to calm the mind
Seize each moment of calm – relax in-between work hours by reading, exercising, or even getting a massage.
Consider mobile apps for simple wellness on the go, in-room workouts, or meditation
Also, staying hydrated is key while travelling. Packing healthy snacks while on the go is always a good idea. We love nuts, fruit, health bars, for healthy snack options
Food & Restaurants
Embracing the shift to at-home cooking has ignited a desire for healthier food and drink options whilst in transit.
Airport lounges are now preparing meals that could be seen on a gourmet restaurant menu. Lounges are offering healthy and fresh options – not just your typical snacks. Another trend we are seeing is the drink trend of "Nolo" cocktails being offered. These no alcohol or lower alcohol content drinks offer a great alternative when travelling. There is a surge in popularity for these healthy alternatives and are now available on many drinks menus.
As we see these emerging needs being prioritised over the past 18 months,  we expect them to carry into everyday travel experiences. Before you leave on your next trip, check out what's available at your airport, near your hotel or destination to see what's on offer. Whether you're travelling for work or leisure, you can enjoy healthy options throughout your journey.
Our Travel Advisors are here to give you insider tips, local knowledge, and the latest openings in some of the most exciting destinations around the world. Contact our team for all your travel needs and let us plan your next trip, email corporatesales@frosch.ie.