Malta and its sister islands are so much more than a beach destination.
Malta at first glance appears to be all about the sun and sea, naturally as the island gets an average of twelve hours of sunshine a day in summer. However, Malta and its sister islands are so much more than a beach destination. Malta is steeped in history with glorious medieval citadels and castles, Roman ruins, walled cities and atmospheric forts dotted all around. For those seeking outdoor activities, the varied landscape offers diving, boat trips, sailing, hiking and mountain biking. Along with the neighbouring island of Gozo and Comino, there's a whole lot to discover on the islands.
The Charming Capital City of Valletta:
The UNESCO capital Valetta is compact, full of charm with stunning ocean views is perfect for ambling around at your leisure with grand churches, palaces and museums. Dating from the 1500s the fortified city was built following the Great Siege of Malta and is inextricably linked to the history of the military and charitable Order of St John of Jerusalem. Architecture in Valletta features ornate Baroque buildings, the exuberant St. John's Co-Cathedral and the Grand Master's Palace, not to mention the many small churches hidden away that transport visitors back to the time of the Knights.
Located in the heart of the island of Malta, the five-star Corinthia Palace Malta features an outdoor swimming pool, a wellness centre, gym and much more. This boutique hotel was built around an elegant, converted villa from the 19th century. It faces the Presidential Palace and is next to the beautiful San Anton Botanical Gardens. Surrounded by its beautifully landscaped gardens, the Corinthia Palace Malta is a peaceful setting for a relaxing break and one of the island's leading 5-star hotels. Corinthia Palace Malta features spacious guest rooms, all complete with a private balcony and all modern comforts. You are well located for exploring Malta. The walled city of Medina is just 2.5 miles away from the hotel. The state-of-the-art Athenaeum Spa offers a holistic, rejuvenating and luxurious experience within the Corinthia Palace's newly unveiled oasis of serenity. The professional team of staff is always on hand to make any stay at the Corinthia an exquisite and memorable one.
Exclusive Amenities with FROSCH Ireland: Full Breakfast for each guest daily in Villa Corinthia, for all room categories; Roundtrip airport transfers for Deluxe rooms and up; $100 USD Food & Beverage or Spa services credit for Executive rooms and up; The following amenities are subject to availability at the time of check-in/departure: Upgrade, Early Check-in, Late Check-out; Additional exclusive privileges for guests of 2022 Suite/Villa.
Mdina – the beautiful walled city of Mdina: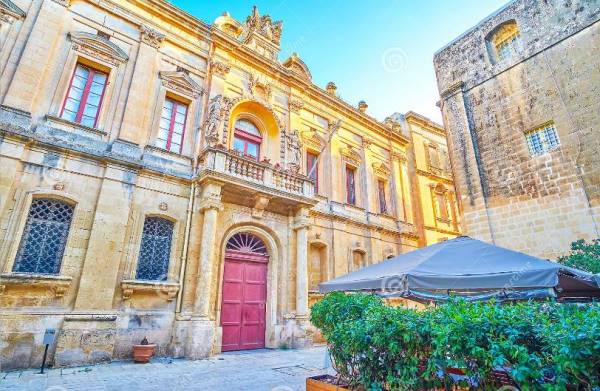 Nestled in the southwest of the Island, the captivating medieval former capital sits proudly at a height with breath-taking views of the ocean. Mdina is the place time forgot and retains all of the charm of an old regal city where churches and palaces dot the walled citadel. It is known as the "silent city" as other than a few exceptions, cars are not allowed within the city walls. This truly is a place to lose yourself in a warren of narrow, rambling streets with open squares and elegant buildings and homes. Another beautiful and unmissable destination in Malta.
Top Restaurant Recommendation in Mdina: De Mondion Restaurant:
De Mondion Restaurant – this Michelin star restaurant is tucked away in the Mdina in the luxurious Xara Palace Hotel is set in a 16th-century building. On its top floor, you'll find this intimate, elegantly dressed restaurant featuring impressive artwork of the island. Despite the hotel's sumptuous style, service remains friendly and not overly formal. In the summer, a table on the terrace is a must, to enjoy stunning views out across the east of the island to the coast.
The Megalithic Temples of Malta
There are seven main Neolithic temples in Malta, one of which can be found on Malta's sister island of Gozo. All of these temples have been classed together as one World Heritage Site. The temples of Malta are said to be both older than those at Stonehenge, and approximately 1,000 years older than the Pyramids of Egypt. The temples Ggantija ('giant') temple in Gozo, Tarxien, Mnajdra, and Hagar Qim are the oldest, with Skorba, Hagrat and Kordin III being built much later. Built using mostly materials such as coralline rock and globigerina limestone, the Ggantija Temples, located in the Zaghra region of Gozo, are the oldest of the seven and date back to around 3600-3200 BC.
The Beaches of Malta, Gozo and Comino
Golden sandy beaches, unique red sands, and rocky shores, the Maltese Islands offer any type of swimming spot imaginable! The Islands also have a number of Blue Flag Beaches. Get ready to jump into the crystal-clear blue seas any time of year, thanks to Malta's vast connectivity and favourable climate! Bask in the 300 days of Maltese sunshine, and relax in the pristine Mediterranean Sea!
Blue Lagoon, Comino –  Only accessible by boat. On the car-free gem of an island of Comino – a heavenly spot for cave-swimming, snorkelling, diving, kayaking, windsurfing and hiking – this sheltered inlet with its cliffs, white sands and aquamarine waters is brilliant for a day-trip over from Malta itself.
Anchor Bay, Malta – Gloriously situated on the Island's Northwest coast, stunning Anchor Bay is one of Malta's most charming rocky beaches. Famous for its magnificent azure waters, picturesque scenery, and intriguing network of caves, with crystal clear waters bursting with an awesome array of marine life, Anchor Bay is ideal for swimming and snorkelling. A diver's paradise too, it is home to the partially submerged, Scorpion Cave, and is known for its splendid swim-throughs and seabed dotted with anchors. The perfect place to unwind and enjoy the tranquility of Malta's enchanting Northern seascape.
Għajn Tuffieħa Bay, Malta –  Situated on Malta's stunning Northwest coast, Għajn Tuffieħa Bay (or 'Apple's Eye) has an idyllic setting and awesome sea views. Its splendid red sands and endless clear seas have everything you want on a beach, and more.
Ramla Bay, Gozo – The best beach on Gozo and arguably across these islands, Ramla il-Ħamra ('the Red Sandy Beach') is a gorgeous swathe of sand much-loved for swimming and snorkelling. Roman ruins are said to lie beneath its sands.
Whether you're travelling for work or leisure, our Travel Advisors are here to give you insider tips, local knowledge, and the latest openings in some of the most exciting destinations around the world. Contact our team for all your travel needs and let us plan your next trip, email res@frosch.ie