Exploring Antarctica
As we revisit our bucket-list of places to explore and discover, a journey to the great White Continent of Antarctica on a cruise ship offers a once in a lifetime opportunity to navigate the last remaining unspoiled continent on the planet. Follow in the footsteps of intrepid Kerry-man and Antarctic explorer Tom Crean with a 15-day expedition to Charcot & Peter Islands, starting and ending in Ushuaia.
Ponant's expedition ship, Le Commandant Charcot.
A land of extremes extending far beyond its peninsula and far inside the Antarctic Circle, a land where nature reveals itself in all its power and unbounded immensity. Encounter an exceptional range of wildlife in the magical surroundings of marine sanctuaries overlooked by monumental ice shelves, cathedral-like icebergs and unexplored volcanic islands covered with voluptuous blankets of snow, and witness the lords of these realms, the emperor penguins.
Set out on a true expedition on board Ponant's expedition ship, Le Commandant Charcot. In collaboration with National Geographic Expeditions, Ponant's cruises will land on the small volcanic inlet of Peter I Island, on which only a few people have set foot, as well as approaching Charcot Island, named by Captain Charcot himself. You'll discover the region with kayaking and snowshoeing and help scientists with their discoveries before returning to Le Commandant Charcot's French-style luxury each night, featuring an indoor swimming pool, gourmet panoramic restaurants and much more.
The Cruise Ship Le Commandant Charcot:
Le Commandant Charcot is an icebreaking cruise ship operated by the French shipping company Ponant. The ship offers a superbly refined environment with generously sized spaces, Le Commandant Charcot combines sophistication with openness and a warm, friendly atmosphere.  Equipped with 123 exceptional suites and staterooms with private balcony or terrace, Le Commandant Charcot is fully in keeping with the Ponant philosophy: to provide a rare and exceptional ambiance for every passenger welcomed onboard and reinforce the feeling and sense of sailing on a private yacht.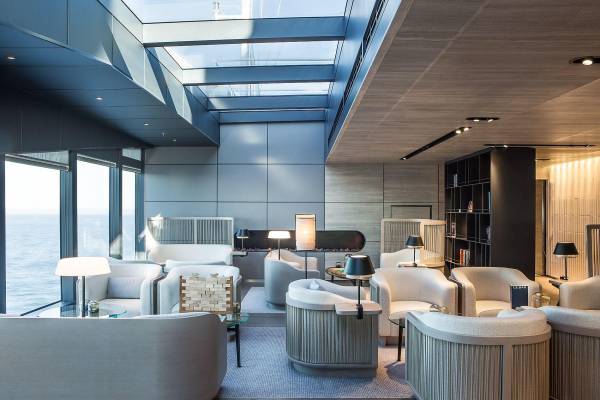 Cuisine as only the French know how:
Faithful to their commitment to spreading the French way of life around the world, aboard the ship, talented chefs craft high end menus so you can enjoy the delights of a refined table. They share their passion for premium produce with passengers, enriched with the inspiring flavours from the stopovers that you make.
As part of their commitment to develop sustainable and responsible tourism, chefs source food directly from the places you stop at, while committing to respecting the local resources.
Choosing a Ponant "Expedition" cruise means choosing a state of mind: a blend of luxury, exploration and great comfort, adventure and refinement… even in the heart of Antarctica. Ponant Expedition Cruises not only give you the chance to travel on board a luxury ship, but also to enjoy top-quality services and go on a voyage of discovery to far-flung corners of the earth, accompanied by experts on the regions visited.
Because a successful voyage begins with a carefree departure, at FROSCH Ireland we help and assist you right from the planning of your cruise through to your return. In addition to your various transport requirements, we also offer an "à la carte" approach to organising your trip: Once aboard, you can enjoy the adventure in total peace of mind.  Start planning your adventure today. Contact our team  and let us plan your next epic adventure email res@frosch.ie